When shopping for engagement rings, you'll hear quite a lot about the princess cut. Over the years, princess cut engagement rings have become an increasingly popular choice for brides-to-be, earning the spot of second most popular style. Women worldwide adore the princess cut for its captivating sparkle, its glamour, and its quality. At Golden Nugget Jewelers in Philadelphia, we know that princess cut is a gorgeous choice. Here's what you need to know about princess cut engagement rings as you begin your search.
What Makes a Princess Cut
As popular as princess cut engagement rings have become, the diamond shape is a relative newcomer to the world of fine jewelry. First created in the 1970s, the princess cut is considered a "mixed diamond cut"—and it's often referred to as a "modified brilliant" because it is crafted using the same techniques as those used to shape modified brilliant diamonds. The most defining feature of a princess cut diamond is its sparkling faceted face. On average, a princess cut stone contains 53 to 144 different facets, all of which capture light and add to the shimmering brilliance of the diamond. If sparkle and fire are what you seek, princess cut engagement rings are absolutely captivating.
Princess Cut Engagement Rings are Perfect in Every Way
Perhaps the most important feature of princess cut engagement rings is the style's incredible versatility. A princess cut diamond is perfectly suited to just about every size, setting, design, and variation available. No matter the size of the diamond you choose, a princess cut looks amazing—whether one carat or four carats, the diamond shape creates flash and fire that's unlike any other cut. Every size is certain to capture light, sparkling and stunning from every angle and on every finger. No matter your budget or your style, princess cut diamonds stand out.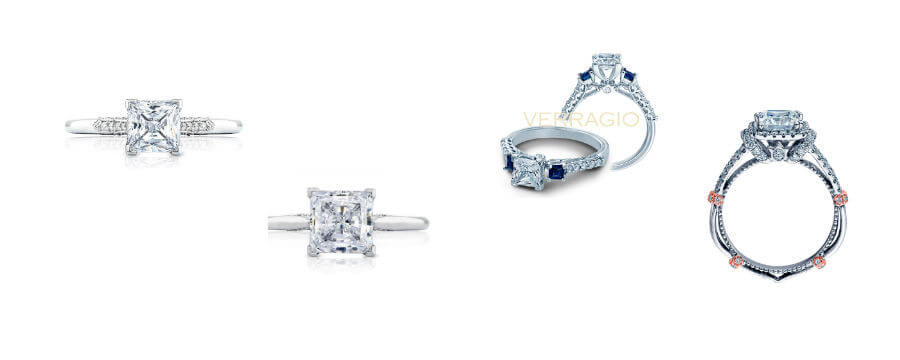 Additionally, princess cut diamonds are a great choice for any ring style and setting. Whether you want to make the diamond the star of show with designs like TACORI's Simply TACORI collection choices 2651PR55 or 2650PR7, or want to combine your princess cut diamond with details and more diamonds like Verragio's Classic-C904P5.5 or Parisian-DL117P, the center stone will demand attention with its beauty. Considered a "clean" shape, a princess cut suits solitare, three stone, and decorative settings of all kinds.

Want to add a bit of color to your princess cut? Princess cut engagement rings are also equally stunning when crafted with colorful gemstones—and, again, look wonderful in any setting and style. Colorful choices like the ArtCarved Vintage 31-V538HCW-E and the A. Jaffe Metropolitan MES599-128 are as captivating with yellow diamonds as crystal clear. Any and all gemstones are gorgeous in a princess cut, noting this diamond shape's versatility and always beautiful appearance. A world of options is available with princess cut engagement rings.
Simply Classic to Detailed and Dramatic: Popular Princess Cut Styles
At Golden Nugget Jewelers, you'll discover a whole vast selection of princess cut engagement rings. Because the stone cut is so versatile, there are countless choices to suit any bride-to-be's taste and lifestyle. Whether your future fiancée is trendy and modern in her style, or more traditional and classic, there's a perfect ring for her.

When it comes to classic and vintage, a single stone or a combination of side stones and pave stones can add beauty around the center princess cut diamond. The A. Jaffe Quilted Collection ME1855Q-204 pairs the center diamond with a simple band for a clean look, an aesthetic that's similar to the beautifully traditional glamour of the Jeff Cooper Ever Collection 3346 and the Simon G Vintage Explorer LP2253.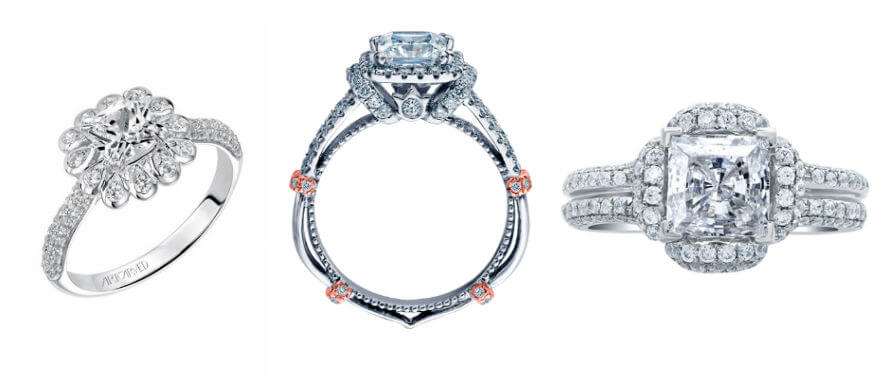 For added "wow" upon the ring finger, more daring and diamond-filled choices can capture modern engagement ring styles that will stun for decades to come. The ArtCarved Contemporary 31-V539EUW-E surrounds the princess cut stone with flower-like petals, where the Verragio Parisian-DL117P captivates with mixed metals and exceptional details along and beneath its band. A choice like the A. Jaffe Seasons of Love MES682-248 brings a wealth of diamonds that's absolutely luxurious.
Visit Golden Nugget Jewelry to Discover Our Selection of Princess Cut Engagement Rings
The right princess cut engagement ring awaits—it's among the vast selection available at Golden Nugget Jewelry. Known as the top engagement ring store in Philadelphia, Golden Nugget Jewelry has been providing shoppers both locally in towns like Cherry Hill, Upper Darby, and Springfield and beyond in the cities of Washington, D.C., Baltimore, and New York City. Specializing in loose diamonds, designer engagement rings and wedding bands, and high-quality fashion jewelry for any occasion. Allow our team of trained professionals to give you a personalized and informative shopping experience as you search for that perfect princess cut ring. Stop by our Philadelphia store on Chestnut Street, call 800-905-9794, or email info@goldennuggetjewelry.com to learn more about our selection of engagement rings, wedding bands, and more today.