Shopping for that all-important wedding band soon? To help celebrate your eternal love, Golden Nugget Jewelers is always here to help you find exactly what you are looking for. Our jewelry experts love to assist our Philadelphia area customers with any questions about the designer names we carry and make the journey to the alter, as easy as possible.
To help you with your search, our wonderful staff members have put together a list of things you should consider for when you shop for men's wedding bands. Whether you are shopping for an unadorned, plain band, or for an intricate, embellished, engraved stunner, Golden Nugget Jewelers has you covered.
For men, shopping might be a bit difficult. Some men don't realize the amount of options they have when shopping for bands until they reach the store, but with our nifty guide, we hope all our guests, whether bride, groom, or couple can find their ideal piece easier!
Design Elements to Consider
1. Choice of Metal
2. Width/Size of the Band
3. Finish Type
4. Detailing
Metal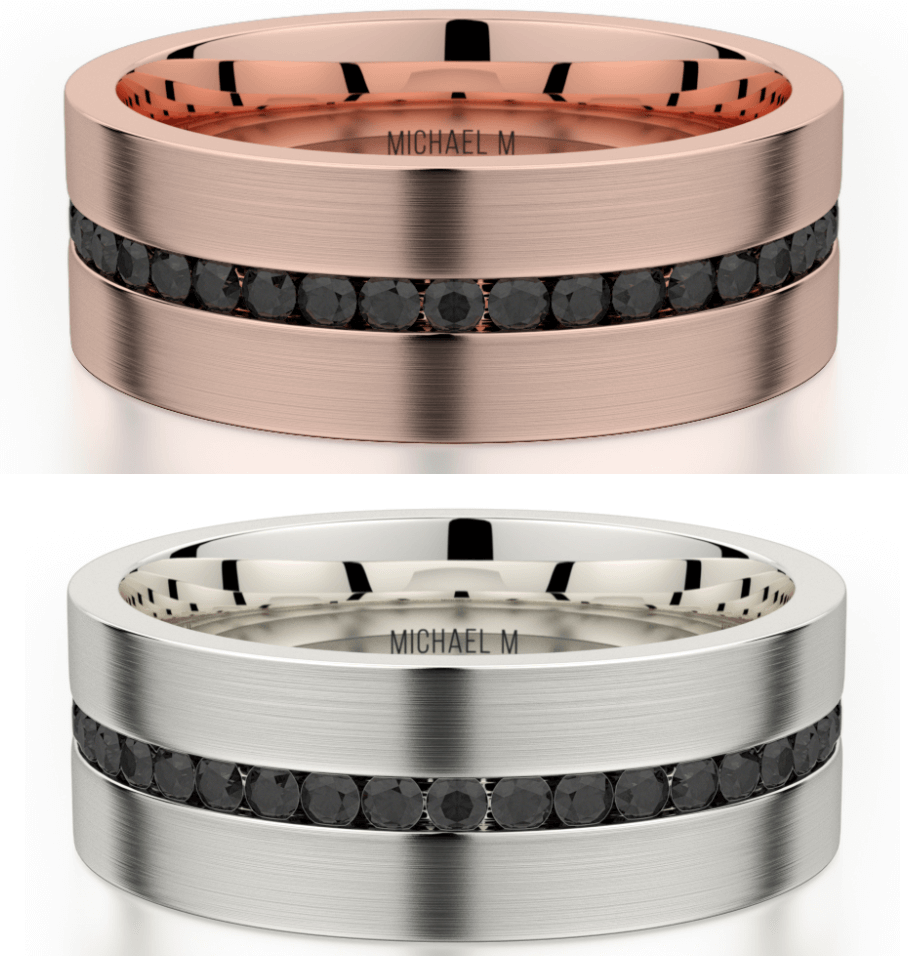 First, customers in our Philadelphia, Pennsylvania showroom can select from among the various types of quality precious metals from the designers in our showroom. Most commonly used are yellow gold, white gold, palladium, and platinum. However, our selection of men's wedding bands come in a plethora of metals including titanium, tungsten, cobalt, and rose gold from innovative designers as Benchmark, ArtCarved, and Michael M.
Width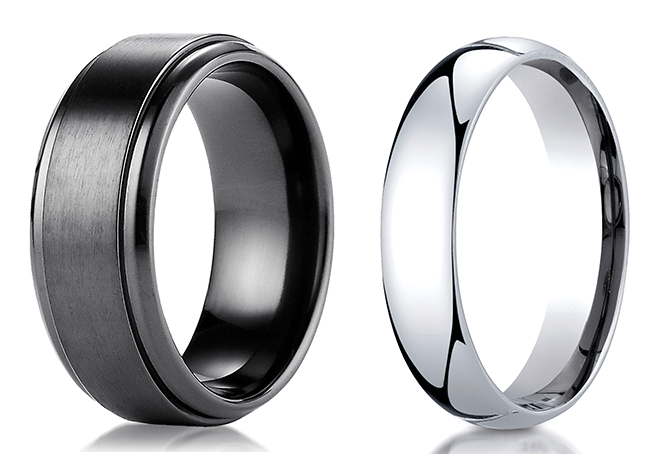 Next, men should consider the width they would like on their wedding bands. The size of the band can impact the level of comfort for the wearer and the look of the ring on the hand. Widely considered the norm, 6mm-8mm are usually found at most retailers, but at Golden Nugget Jewelers, sizes range from Tacori's 3mm wedding bands to bold 9mm bands from Benchmark. To know what ring size you should get, we recommend you come to our Philadelphia, Pennsylvania store to see which fit suits you best.
Finish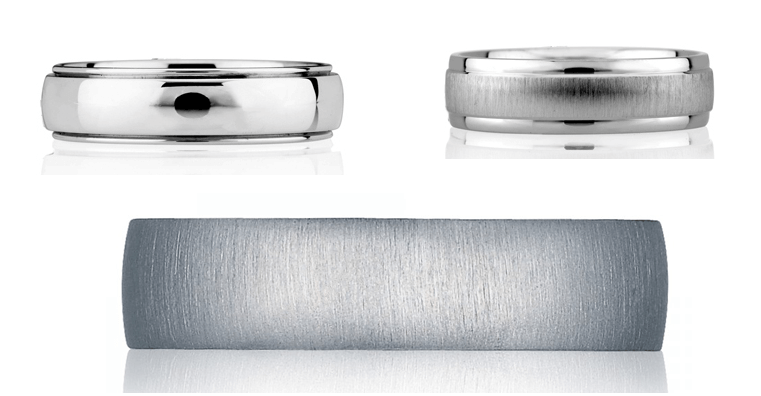 An exciting aspect of wedding band shopping, customers can look through our wide selection of men's wedding bands to select the specific type of finish that they desire. The most common finish types are polished, hammered, and satin. Polished bands are considered the most traditional of the looks and wearers can expect a very reflective and shiny look. For those seeking something a bit different, a hammered finish is one brimming with textured appeal, sometimes appearing "beaten." Another great option, satin, also known as matte, creates a smooth foggy finish.
While shopping at Golden Nugget Jewelers, look for these three finishes and then search through the innovative wedding bands that use more than one type of finish to create one-of-a-kind looks.
Detailing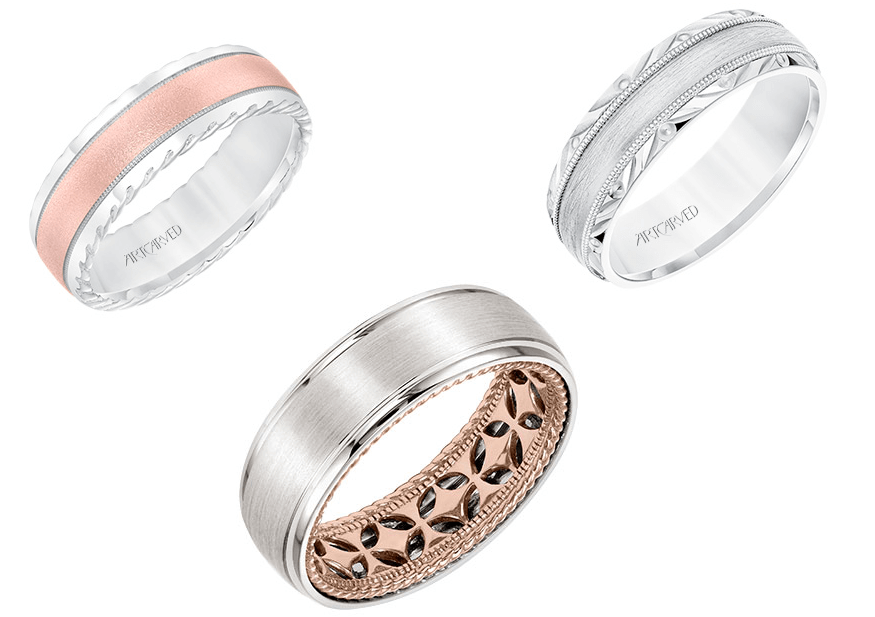 Last, and possible the most fun to consider, consider the type of detailing you'd like on your ring. Would you like a wedding band with a single stone, or several dozen? Perhaps you do not want a traditional white diamond and instead would like a black diamond or even a sapphire? At Golden Nugget Jewelers, we have it all!
Men's wedding bands from Tacori come with sapphires, while both Michael M and Benchmark both create rings incorporating black diamonds. Nowadays men can also select from more stylized bands including rings with unique engravings and embellishments. Contemporary designers find no limit to the masterful kinds of art they can craft!
Find Your Match With Us!
Committed to helping you find exactly what you are looking for, we at Golden Nugget Jewelers love to showcase all of today's top wedding band designer names including Tacori, A. Jaffe, ArtCarved, Benchmark, Jeff Cooper, Michael M, Verragio, and others. In addition to our wonderful selection of designers, we are also proud to provide exceptional custom jewelry design services for our Tri-State area friends and neighbors, ensuring that if customers do not find their perfect match among the hundreds of designer name selections, they can craft the wedding band of their dreams!
For more information on any one of the men's wedding bands selected, check out our "Contact Us" page, call us at 800.905.9794, or better yet, visit us in person at our Philadelphia, Pennsylvania location to browse through our handsome collection for yourself.